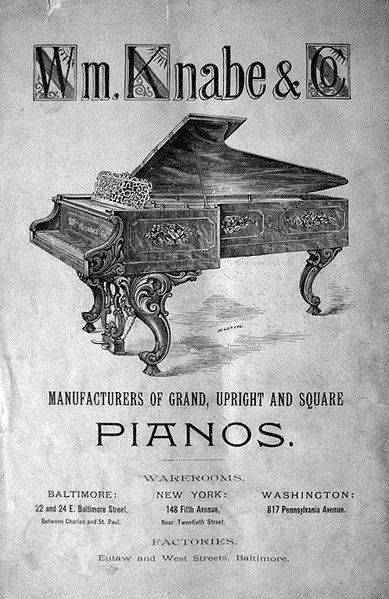 1889 Wm. Knabe & Co. piano advertisement


http://pianoartisans.com/piano-info/piano-history/knabe-piano-company/
What was to be a joyous birthday present from the late P. M. Green to his daughter now comes to her as a sweet but sad memorial to his love. Some months ago, the millionaire ... gave his order for a specially designed Art Grand Piano to be manufactured by the famous old house William Knabe and Co., Baltimore. Such special work requires months of patient waiting before the finished product is ready for shipment and this order was no exception to the rule... The piano arrived only yesterday, and is now on display at the Pacific Music company's warerooms... Seldom, if ever, has any show window in this city been decorated by such a magnificent specimen of the piano maker's art.
(Los Angeles Herald, 9 Aug 1903)
The recipient of that piano was Mary Green, my 1st cousin 4 times removed. She was born in March 1863 in Shelby County, Indiana and was the only child of Perry M. Green and Henrietta "Hettie" Campbell. Mary's mother had poor health, which influenced the family's decision to seek a better climate. When Mary was 10 years old, she and her parents, aunt, uncle, and cousins joined a migration of Indiana families to southern California.
Mary was the founder of the Pasadena Symphony Club, which met for the first time at her parents' house on November 5, 1896. The club's meetings included papers given on composers and musical forms, orchestral and piano rehearsals, and many public performances. According to several newspaper accounts, Mary was a remarkable musician and a pianist of great technical ability. (I wish there was a recording of her playing!) Among the pieces she performed with the Pasadena Symphony Club were:


Dvorak's Symphony No. 5 in E minor "From the New World"
Saint-
S

ä

e
ns' Dance Macabre "Dance of Death"
Raff's Symphony No. 5 in E Major "Lenore"
Schubert's "Death and the Maiden"
After Mary's father died in March of 1903, her mother's health also began to decline. Hettie, who for a while benefited from the climate change, eventually contracted severe bronchitis and passed away in 1908. Two years later, on July 22, 1910, Mary Green died from heart failure at the age of 47. She never married and has no descendants. I wonder what happened to Mary's beautiful piano. I like to hope that it is preserved in a museum somewhere.